Bozeman Farms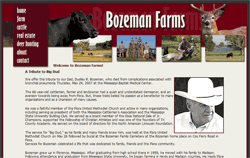 The Bozeman Farms website is a tribute to Big Dud, a 66 year-old cattleman, farmer and landowner that had a quiet and understated demeanor, with an aversion towards being away from Flora. But, these traits belied his passion as a benefactor to many organizations and as a champion of many causes.
Dudley R. Bozeman died from complications associated with bronchial pneumonia Thursday, May 24, 2007 at the Mississippi Baptist Medical Center.
In addition to the tribute to "Big Dud" you can find information on their Limousin cattle operation, farm, and soon to come deer hunting packages.